:
Georgia Crisis & Access Line
Training
Join Our Email List
Addictive Diseases Training Announcements
Intellectual/Developmental Disabilities Training Announcements
Mental Health Training Announcements
Cultural and Linguistic Competency Training Series: Diversity Works
Week of Webinars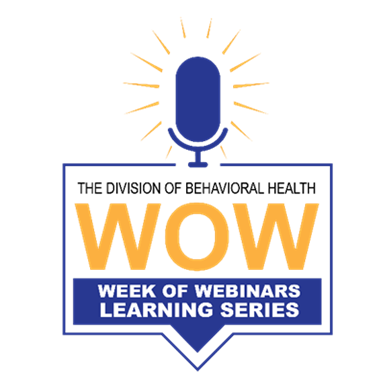 THE DIVISION OF BEHAVIORAL HEALTH WEEK OF WEBINARS (WOW) LEARNING SERIES - OCTOBER 26 - 30, 2020!
The WOW Learning Series is a full week of webinar sessions intended to benefit organizations that currently contract and partner with DBHDD's Division of Behavioral Health. The goal is to provide a forum for supportive learning to address best practices in treatment, and prevention as well as emerging research related to child, adolescent, and adult mental health and addictive diseases.  Each day we offer two 90-minute workshop sessions focused around a specific topic area.
REGISTER NOW AT:  https://cvent.me/3Eonb3
DAY 1 - OCTOBER 26: HUMAN TRAFFICKING AND PREVENTION
9:30 AM - Domestic Minor Sex Trafficking
1:00 PM - Conversations on Access to Lethal Means
DAY 2 - OCTOBER 27: ADULT MENTAL HEALTH
9:30 AM - Clinical Concepts in Adult Mental Health Panel Discussion
1:00 PM - Overview of Adult Mental Services
DAY 3 - OCTOBER 28: CHILDREN, YOUTH, AND FAMILIES
9:30 AM - Icing on the Top, Emerging Adult Programs
1:00 PM - Creativity in the Face of Challenge: Continuing Youth Substance Abuse Prevention During COVID-19  
DAY 4 - OCTOBER 29: CULTURAL COMPETENCY
9:30 AM - Fundamentals of Effective Cultural Responsiveness CRASH
1:00 PM - Characterizing Racism as an ACE (Adverse Childhood Experience): Implications for Children's Health and Well-Being
DAY 5 - OCTOBER 30: RECOVERY AND SELF-CARE
9:30 AM - Women's Treatment and Recovery in a Pandemic
1:00 PM - Self-Care for the Caregiver
________________________________________
Registration is accepted on a first come, first serve basis. REGISTRATION CLOSES AT 11:59 PM ON THE DAY BEFORE THE SCHEDULED SESSION DATE OR UNTIL CAPACITY IS REACHED. 
Questions? Please email DBHDDLearning@dbhdd.ga.gov