Use of Medications in Dually Diagnosed Individuals
This is a link to a website that has multiple resources. In general, a lot of the resources that are available are listed for the autistic spectrum; however we have found that the issues and recommendations apply to individuals with intellectual disabilities and psychiatric diagnoses as well. Therefore, if we came across useful links that appeared specifically for autism and the spectrum we looked at those as well.
DBHDD does not advocate treating with medications strictly for behaviors that are a problem, but rather for an actual psychiatric diagnosis if needed. This is important to avoid unnecessary adverse events or exposure to unneeded medications.
Georgia Quality Management System – Delmarva Foundation
This training provided an overview of the revised CMS rules that ensure people receiving waiver services have full access to benefits of community living and person-centered services and supports.  The training also provided participants information to understand and evaluate the extent to which services comport with CMS rules.
Several of the resources here are useful for medication risks and benefits. These will provide great information as to initiate a conversation regarding appropriate dosing or choice(s) of medication for a given diagnosis.
There are also handouts that may assist families or providers or even community physicians/healthcare staff regarding issues such as what the major medical issues this group will face in terms of morbidity and mortality and how we can lessen that burden. One of the handouts available for example that would be quite useful for families, providers or physicians is the link to the recommendations for healthcare screenings for basic healthcare based on gender and age. This could then be adjusted based on individual family/personal risk factors, but it is a good starting point.
Another useful section relates to the individual's human rights. This is a very important issue in that when illness does occur and the provider or caregiver needs to utilize an Emergency Department, Urgent Care or Acute Care Hospital setting, the wishes and best interests of that individual often become unclear. There are wonderful resources on this site that include handouts and presentations discussing these issues. It is increasingly important that we at DBHDD encourage families, caregivers, and providers to ensure that the individual has the appropriate documentation in place prior to an emergent event occurring so that the human rights of that individual are respected at all times.
The University of Western Ontario, Division of Developmental Disabilities; Section on the Dual Diagnosis
This University of Western Ontario has a wealth of resources on dual diagnosis. They have compiled a webpage that includes links to journal articles, books, and webinars.
These are all useful resources that are primarily aimed at medically trained staff (more than previous links).
Ontario Webcasting Center, Webinar Links
This site is valuable for information from these webinars for all levels of caregivers. One of the best discussions about dual diagnosis is #43213970. This is a wonderful webinar given by Dr. Vikram Dua about the Autistic Spectrum Disorders, however he really does a terrific job of discussing intellectual disabilities in general and the co-occurrence of psychiatric disorders in these individuals regardless of whether they were on the autism spectrum or not. He has several interesting graphs that show distinguishing characteristics between these conditions and discusses why so many of these individuals have their psychiatric disorders overlooked due to the primary conditions.
No log in is necessary. Public access is available. In the search box, enter dual diagnosis, developmental delay, or autism to obtain the most useful resources.
When Do I Need An AIMS (Abnormal Involuntary Movement Scale)?
It seems that there is still a lot of difficulty among providers/Region RNs as to when an AIMS is required and when it is not. We certainly want this issue to be clear for the sake of the individuals we serve, but also because we do not want our community clinicians to be asked to do unnecessary testing when it is not really required. Therefore, we want an easily identified place to find this answer.
Abnormal Involuntary Movement Scale (AIMS), 03-543
The AIMS is a method of testing specifically for the movement disorder side effects that are seen with antipsychotic/neuroleptic medications*. These do NOT include any of the other classes of psychiatric medicines. This means antidepressants, anxiolytics, mood stabilizers and antiepileptics. Even if these medications are being used to treat a psychiatric condition, it does not qualify them for needing an AIMS.
This information is also on page 39 of the I/DD Provider Manual, although less clearly stated than in our own DBHDD policy states: "Monitoring the presence of side effects. [Individuals on medications likely to cause tardive dyskinesia are monitored at prescribed intervals using AIMS testing]." This is less clear because the list of medicines is left out of that comment (leaving it up to determination) but found elsewhere in the manual. The DBHDD policy mentions in the policy specifically neuroleptics. Unfortunately, this term "neuroleptic/psychotropic" has been used to describe ANY psychiatric medication, when it ONLY refers to those medications that are likely to cause tardive dyskinesia.  Any doctor or pharmacist can tell you if the drug is in the class that would require this monitoring. Otherwise, it is useless testing.
Neuroleptic/Psychotropics

First Generation
Many are discontinued or only available in generic

Second Generation

Haldol/haloperidol

Loxitane/loxapine

Thorazine/chlorpromazine

Compazine/prochlorperazine

Stelazine/trifluoperazine

Prolixin/fluphenazine

Orap/pimozide

Mellaril/thioridazine

Navane/thiothixene

Abilify/aripiprazole

Clozaril/clozapine

Fanapt/iloperidone

Geodon/ziprasidone

Invega/paliperidone

Latuda/lurasidone

Risperdal/risperidone

Saphris/asenapine

Seroquel/quetiapine

Zyprexa/olanzapine
Resources
Health Care for Patients with Mental Illness and Intellectual Disabilities - The Dually Diagnosed Population: Utilizing Strategic Actions to Facilitate Communication and Improve Care By: Holly M. Crowley, M.D. and Brittanney Mills, R.N.
Ontario's Center for Addiction and Mental Health: Dual Diagnosis Resources
An excellent source of information and tools for healthcare professionals, clients, and families. Some resources may contain information specific to Ontario.
Vanderbilt Kennedy Center for Excellence in Developmental Disabilities
Healthcare for Adults with Intellectual and Developmental Disabilities: Toolkit for Primary Care Providers
Psychotropic Medication Issues
Centre for Addiction and Mental Health, University of Toronto, Surrey Place Centre
Guidelines for Managing the Client with Intellectual Disability in the Emergency Room
Autism Speaks: Is it Autism? A Guide for Adults 
Medical and Psychiatric Issues that May Accompany Autism
Associations
The American Academy of Developmental Medicine and Dentistry
World Psychiatric Association: Psychiatry of Intellectual Disability
Journals/Publications/Books
Journal of Applied Research in Intellectual Disabilities 2015, 28, 98–110
Identifying Training Needs for Mainstream Healthcare Professionals, to Prepare Them for Working with Individuals with Intellectual Disabilities: A Systematic Review by Cahley Hemm, Dave Dagnan, and Thomas D. Meyer.
Intellectual Disability Psychiatry: A Practical Handbook
Ontario's Centre for Addition and Mental Health
Summary of Research on Individuals with IDD in the ED
Community Networks of Specialized Care: Dual Diagnosis Community of Interest
Evidence in Action: Improving the Emergency Care of Adults with Developmental Disabilities – DD CARES
A series of projects, examining the emergency experiences of adults with developmental disabilities (DD) in Ontario, were conducted between 2005 and 2011. The research team learned how often individuals with DD visit the Emergency Department, the most common reasons for these visits, and what the experience is like for each of patients, caregivers and ED staff.
Attitudes of Senior Psychiatry Residents Toward Persons with Intellectual Disabilities. Canadian Journal of Psychiatry, Vol 48, No 8, September 2003.
Maria G. Valdovinos, Mary Caruso, Celeste Roberts, Geunyoung Kim, Craig H. Kennedy, and James Bodfish (2005) Medical and Behavioral Symptoms as Potential Medication Side Effects in Adults With Developmental Disabilities. American Journal on Mental Retardation: May 2005, Vol. 110, No. 3, pp. 164-170.
Lunsky, Y. Klein-Geltink, J., Kurdyak, P., et al. Are Adults with Developmental Disabilities More Likely to visit EDs? May 2011, American Journal of Emergency Medicine, Volume 29, Issue 4, 463-465.
love_anthony_thumb.jpg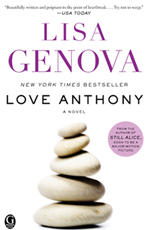 Love Anthony by Lisa Genova
As a more personal resource for families who are caring for or about a loved one with a dual diagnosis, or specifically autistic spectrum disorder, we have found this book to address some of the issues that you face every day. This journey of handling the highs and lows of developmental disorders combined with behavioral health issues is an especially challenging one and this book may connect with you.