DBHDD wraps week-long Red Ribbon activities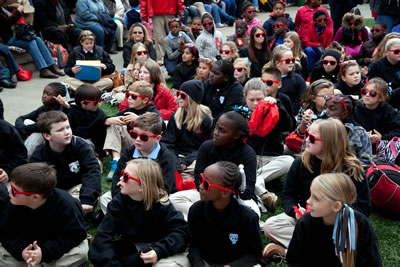 ATLANTA - Georgia's Red Ribbon Campaign concluded its statewide Red Ribbon activities this week, which kicked off at Centennial Park's Southern Co. Amphitheater on Thursday, October 20, 2011 with more than 1200 students, organizations and community leaders. The week's festivities featured a variety of celebratory events in Savannah, Rome, Waynesboro, Metro- Atlanta, Talbotton and Barnesville.
Each event brought awareness to substance abuse prevention and encouraged elementary, middle and high school students, as well as Georgia colleges to live a drug-free lifestyle.
National Red Ribbon Week began as an effort to honor Federal Drug Enforcement Agent, Enrique "Kiki" Camarena, who was killed in the line of duty. Agent Camarena was kidnapped and brutally murdered in 1985 while working undercover investigating drug traffickers. In honor of his memory, friends and neighbors began to wear red satin badges. In 1988, the National Family Partnership organized the first Red Ribbon Campaign.
Georgia has participated since 1987, and Governor Nathan Deal is the Honorary Chair. Red Ribbon week activities around the state have grown steadily each year. For more information regarding Red Ribbon activities, please visit: http://dbhdd.georgia.gov.
Contact Information:
Kristie Swink (knswink@dbhdd.ga.gov)