DBHDD receives Governor's Excellence in Customer Service Award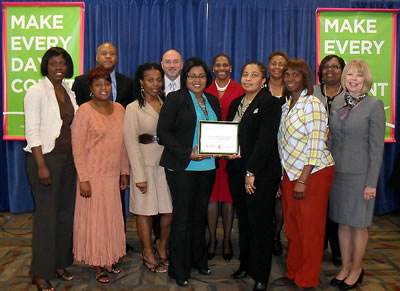 ATLANTA (GA) - Georgia's newest agency has revamped its Provider Enrollment Process and cut the time it takes providers to enter the system by 79 percent. For their efforts to provide Georgians with better services, the Department of Behavioral Health and Developmental Disabilities' (DBHDD) Division of Developmental Disabilities, Office of Providers Network Management was nominated and chosen to receive the Governor's Quarterly Commendation for Excellence in Customer Service award.
DBHDD staff used Rapid Process Improvement (RPI) to address four critical areas of need. The RPI team developed new criteria for the pre-enrollment training registration process which reduced the lengthy time providers were waiting to be enrolled in the required training. The team established new protocol standards and timelines for the staff of Provider Network Management to review applications and significantly reduced the number of days from start to finish for the provider to be completed.
The new process included the implementation of a self assessment tool and a new standard operating procedure for auditing potential provider finances. The RPI process established a new DD Quality Assessment that increased the capacity to assess a total of 10 applicants per month to 50 applicants per month. The RPI team also eliminated 20 steps in the Provider Enrollment Process and replaced it with a five step review process. The clear promotion of excellence in customer service is evidenced this significant reduction in the overall process time for the DBHDD provider application process.
Contact Information:
Kristie Swink (knswink@dbhdd.ga.gov)