Governor honors Red Ribbon contest winners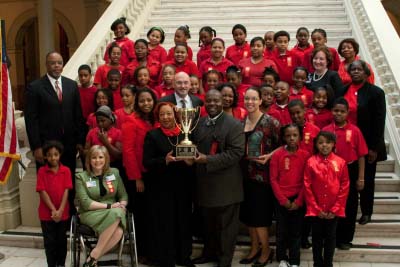 (Left to Right): Theodore Golden, Special Agent, US Drug Enforcement Agency; Cassandra Price, M.B.A., director of the DBHDD of Addictive Diseases and Dr. Frank E. Shelp, DBHDD Commission, honor the overall winners, McNair Discovery Learning Academy.
ATLANTA, GA - More than 200 Georgia students were honored by Governor Sonny Perdue at the Georgia State Capitol for pledging to live a drug free life. The Governor's Red Ribbon Ceremony also revealed the contest winners who submitted artwork with substance abuse prevention themes.
Approximately 27 schools and organizations submitted work to be considered for the Red Ribbon contest. The following schools and organizations won in their category: McNair Discovery Learning Academy (Elementary Schools), Austin Middle School (Middle Schools), Pepperell High School (High Schools), and Gordon County Chamber of Commerce (Non-School). McNair Discovery Learning Academy took the prize for overall winner of this year's contest.
The Red Ribbon awards ceremony is the culmination of activities that started in October during National Red Ribbon Week. National Red Ribbon Week began as an effort to honor Federal Drug Enforcement Agent, Enrique "Kiki" Camarena, who was killed in the line of duty.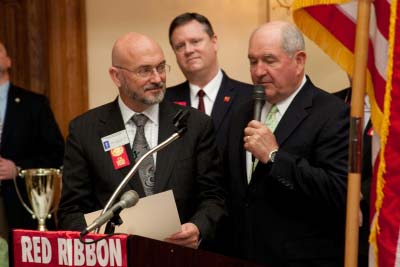 Governor Sonny Perdue presents DBHDD Commissioner Frank E. Shelp with a proclamation at the Red Ribbon Ceremony.
Contact Information:
Kristie Swink (knswink@dbhdd.ga.gov)