:
Georgia Crisis & Access Line
GRHA Hiring Fair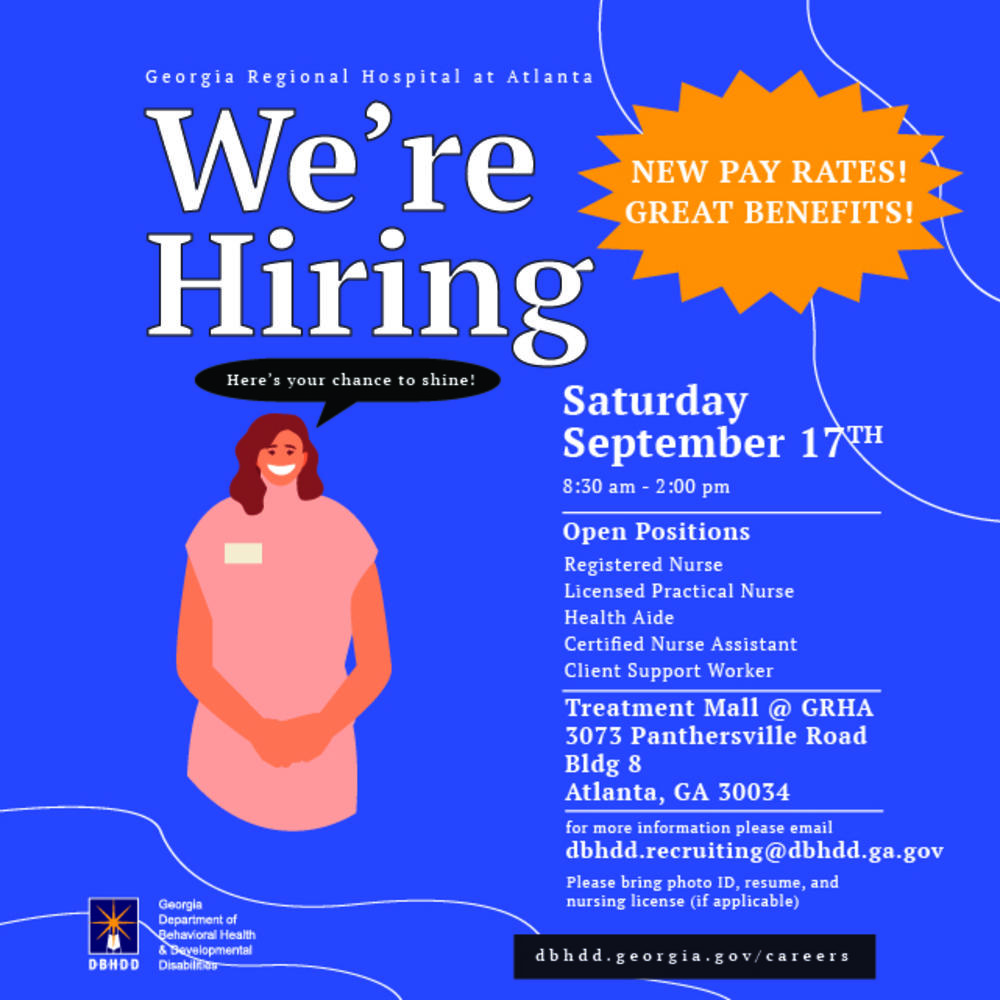 Georgia Regional Atlanta is hosting a hiring fair for Registered Nurses, Licensed Practical Nurses, Health Aides, Certified Nurse Assistants, and other key support positions. 
Saturday, September 17, 2022
8:30 a.m. - 2 p.m.
3073 Panthersville Road
Atlanta, GA 30034
Add to Calendar
Georgia Regional Hospital Atlanta will host a hiring fair for:
Registered Nurses
Licensed Practical Nurses
Health Aides
Certified Nurse Assistants
and other key support positions
Both full and part-time employment are available, with newly enhanced competitive pay rates and opportunities for fast-track career progression, professional and personal development, and flexible schedules.
Full-time employment provides access to a comprehensive state of Georgia benefits program, featuring generous accrued paid leave, 13 state holidays, parental leave, cost-effective medical and dental coverage options, flexible insured coverages, as well as a retirement program with 401(k) savings (up to 5% employer match) and separate pension plans.
Applicants should bring a photo ID, resume, and a copy of a professional license, where applicable.
The fair will be held Saturday, September 17, from 8:30 AM until 2:00 PM at Georgia Regional Hospital Atlanta's Campus, Building 8 (Treatment Mall), 3073 Panthersville Road, Decatur, GA 30034
For more information:
Potential applicants should contact Terry Lee at 470-597-5903 or [email protected].