Beginning in State Fiscal Year 2018, the legislature appropriated funds for services and supports to individuals with an Autism Spectrum Disorder (ASD), ages 0 through 20. Three state agencies (The Departments of Behavioral Health and Developmental Disabilities, Community Health, and Public Health) were charged with enhancing the state's capacity to support individuals with ASD and their families/caregivers through several initiatives, including ASD-specific training to select health system providers, increasing the availability of telehealth technology in service delivery, and the implementation of an early intervention and treatment service system for individuals with ASD. The Georgia Departments of Human Services and Education, and the Governor's Office of Budget and Planning were key informants in the planning process.
Board Meeting Presentation
Dec. 2017
Out-of-Home Crisis Service Capacity for Children/Youth with ASD
The Georgia Department of Behavioral Health and Developmental Disabilities (DBHDD) is currently developing some limited out-of-home crisis service capacity for children and youth with ASD, anticipated to begin in early 2019. This will include statewide access to Mobile Crisis services, six short-term Crisis Support Home beds, and a 10-bed Crisis Stabilization Program. Access to these services will be based upon medical necessity, as determined by the DBHDD and its contracted ASD crisis service providers.
Outpatient Treatment Services for Children/Youth with ASD
The Georgia Department of Community Health (DCH) is offering an outpatient treatment benefit specific to ASD for Medicaid recipients ages 0 through 20. Please visit https://dch.georgia.gov/autism-spectrum-disorder for more information. Providers of ASD services can be found using the DCH's Georgia Medicaid Management Information System (GAMMIS) and selecting the Member Information tab, or by following this link: https://www.mmis.georgia.gov/portal/PubAccess.Member%20Information/‌Find%20a%20Provider/tabId/49/Default.aspx.  
Early Diagnostic and Intervention Services for Young Children with ASD
The Georgia Department of Public Health (DPH) is partnering with various governmental, educational, and community entities through its Georgia Autism Initiative to achieve the following goals:
Train Early Intervention providers enrolled in the Babies Can't Wait program (Part C of the Individuals with Disabilities Education Act) on ASD-specific early detection, family collaboration and support, and evidence-based intervention strategies and supports;
Train families of children enrolled in Part C services who have either been diagnosed with ASD, or who are experiencing combined social, emotional and communication delays in Positive Behavioral and Visual Supports (PBVS);
Build the capacity of qualified professionals to provide quality diagnostic assessments; and
Build telehealth technological capacity in select county/district Public Health Departments throughout the state. Please visit https://dph.georgia.gov/‌georgia-autism-initiative for more information.
A new system of care for Individuals with DD who are experiencing a behavior-related crisis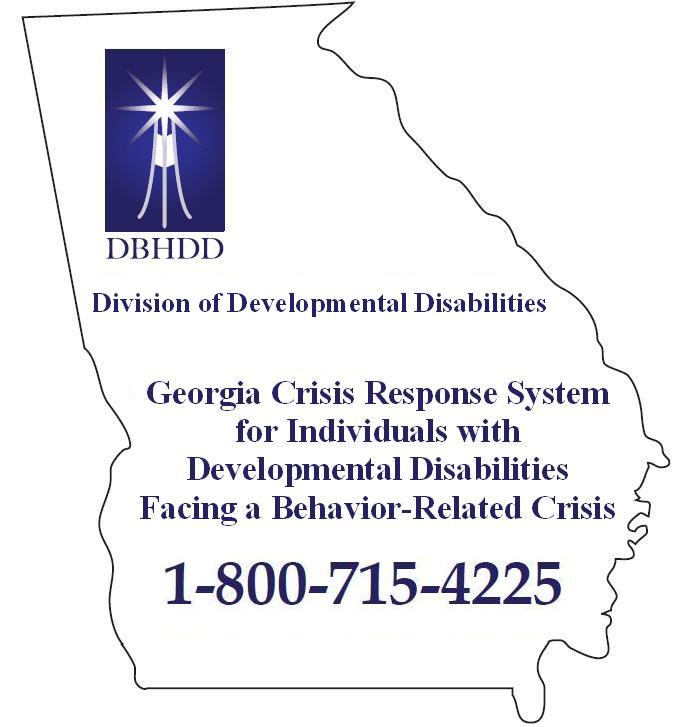 DBHDD Developmental Disabilities Services
Fact Sheets by Language