The Georgia Apex Program (Apex), funded by the Georgia Department of Behavioral Health and Developmental Disabilities (DBHDD), strives to build capacity and increase access to mental health services for school-aged youth, Pre-Kindergarten to 12th grade, throughout the state.
Apex recognizes schools as a natural environment for identification and intervention, and aims to reduce the number of youth with unmet mental health needs.
The program promotes collaboration between community mental health providers and schools to provide school-based services and supports, including training for school staff, in hopes of facilitating the right care at the right time for children, young adults, and families.
Learn more about the Georgia Apex Program
Apex Providers by Region
2022 Apex Regional Provider Map.jpg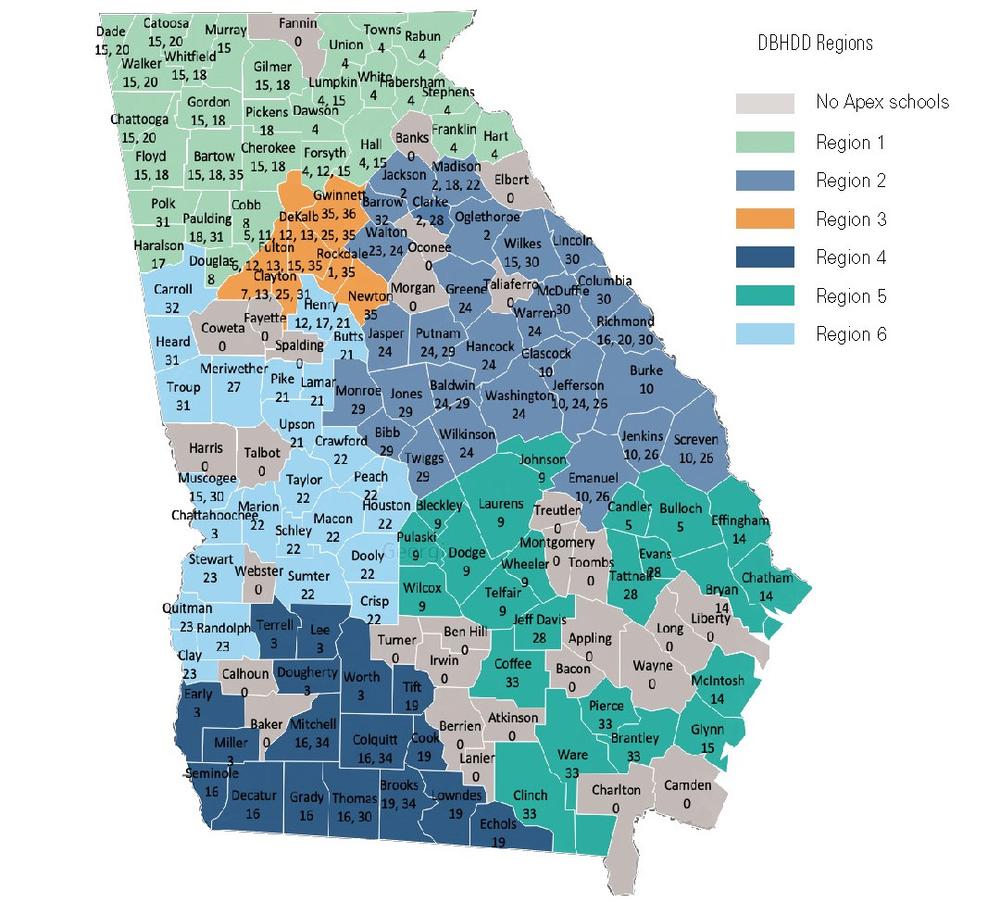 Region 1 (North Georgia)
Avita Community Partners
Cobb CSB 
Family Ties Enterprises
Georgia Hope
Haralson Board of Health
Highland Rivers Health
Lookout Mountain Community Services
Tanner Medical Center
Region 2 (East Georgia)
Advantage Behavioral Health Systems
CSB of Middle Georgia, Ogeechee Division
Oconee Center CSB
Ogeechee Behavioral Health Services
River Edge Behavioral Health Center 
Serenity Behavioral Health System
The Social Empowerment Center
Region 3 (Metro-Atlanta)
Academy for Family Empowerment
CHRIS 180
Clayton Center CSB
DeKalb CSB
Family Ties Enterprises
Fulton County DBHDD
Georgia Hope
Odyssey Family Counseling Center
View Point Health 
View Point Health - ATL
Region 4 (South Georgia)
Aspire BHDD Services
Georgia Pines CSB 
Legacy Behavioral Health Services 
Vashti Center
Region 5 (Savannah)
Care Partners
CSB of Middle Georgia
Gateway Behavioral Health Services
Pineland BHDD 
Unison Behavioral Health
Region 6 (West Georgia)
Family Ties Enterprises
Georgia Hope
McIntosh Trail CSB
Middle Flint Behavioral Healthcare
New Horizons Behavioral Health
Pathways Center
Tanner Medical Center