Add to Calendar
Wed, 10/02/2019 (All day)

to

Fri, 10/04/2019 (All day)
The Department of Behavioral Health and Developmental Disabilities (DBHDD), Division of Behavioral Health is pleased to announce that it will again host a three-day Behavioral Health Symposium to inform professionals about best practices in the delivery of behavioral health services and supports. This event is intended to benefit all organizations that currently contract and partner with DBHDD's Division of Behavioral Health.

The 2019 Symposium will be held in a NEW LOCATION!  Please plan to join us at the Lodge at Callaway Gardens in Pine Mountain, GA, October 2 – 4, 2019.
REGISTER NOW:  https://DBHDD.cvent.com/InspireBHSYMP19
The 2019 Behavioral Health Symposium Awards Ceremony Dinner will be held on Wednesday, October 2, 2019, from 6:00 - 8:00 pm at the Lodge at Callaway Gardens in the Longleaf Ballroom. Tickets are $25 per person. Walk-in registration/onsite payment for the Awards Ceremony dinner will not be accepted.
2019 Behavioral Health Symposium Schedule:
Wednesday, October 2, 2019 - Pre-Symposium Workshops & Awards Ceremony
Thursday and Friday, October 3 & 4, 2019 - Symposium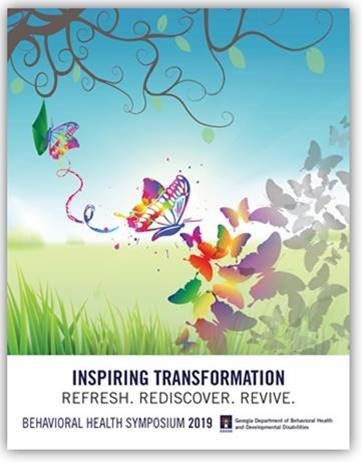 Need to book your hotel room at The Lodge at Callaway Gardens for the DBHDD 2019 Behavioral Health Symposium?  Call (877) 423-0918 or go to DBHDD 2019 Behavioral Health Symposium
Program and General Symposium Questions? Email ssu@cviog.uga.edu
Website/Technical Questions? Email DBHDDLearning@dbhdd.ga.gov